Release #333 - June 8th, 2017
Road Accident Claims Woman's Life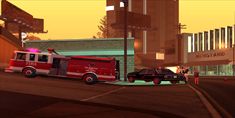 Road accident at the intersection on Vinewood Boulevard
A serious road accident occured on the evening of June 4th, approximately at 2100 hours. The driver lost control of a black four doors vehicle due to unknown reasons. Unfortunately, the car head-on collided with a building at the intersection between the Dillimore Connector and the Vinewood Boulevard.
The Los Santos Fire Department and the Traffic Enforcement Unit from San Andreas Sheriff's Department promptly responded to the scene. Firefighters, thanks to their vehicle extrication technique, managed to take the victim out of the vehicle by removing some parts that were obstructing the exit. Sadly, the victim passed away due to the impact.
Vinewood Boulevard is a 68 MPH zone, however, according to the Sheriff's traffic deputies, it is not uncommon to find violators driving in speeds up to 90 MPH at this intersection. During the summer of 2016, 10 motor vehicle accidents were reported. One of them, occurred within the city of Los Santos, had a deadly outcome and it was handled by the Sheriff's Department. A total of 20 motor vehicle accidents were investigated throughout the state of San Andreas. In addition to that, over 20 civillians were reported injured in motor vehicle accidents over last year's summer months alone. The Traffic Enforcement Unit within SASD performed 46 operations, with over 1000 motor vehicles checked last summer. The unit is actively working to suppress the number of drivers violating road laws.
Written by: Laura Thomson
Edited by: Damian McFadden